84
How To Find Out What WordPress Theme a Site Is Using? Here are 5 simple ways you can find out what theme is the site using.
Have you ever wondered how to find out what WordPress theme a site is using? I know I have many times I find a very incredible website and wonder that theme are they using. So here are 5 ways you can know what WordPress Theme a site is using.
Why WordPress Themes? Well, they cover about 60% to 70% of all the total webpages on the internet since its and easy. affordable and customizable platform.
So if you are looking to know specific theme chances are 60% in your favor that its a WordPress site.
When thinking about making your living off the internet, the very first step is to create a business website.
And when building a website, choosing the right theme is one of the most critical steps.
The theme is not only the front end appearance of your store, but there are also many features of your website that are directly or indirectly affected by a wrongly chose theme.
The correctly chosen theme helps you rank your website quickly as it affects your site's load time, SEO, and overall performance.
If you are wandering is a WordPress Theme Necessary check out one of our posts.
To get done with this critical decision, you might have flipped from one theme to another in the WordPress directory enriched with hundreds of free and paid themes.
For a beginner, it is hard to select and pick up the most reliable theme as he doesn't have that many resources to test all the themes available in the vast library of WordPress themes.
One must get an expert's opinion before he chooses the right template.
While ding your theme research, you might google the keyword of your niche and find a list of websites that are your competitors, actually.
There is a strong possibility that one of the design fascinates you and you make your mind to recreate the design and make your own website with the same look.
What would be the next step?
No one can question it that in the next step, you would try to find which theme this website is using, what other features, server, database OS, and other widgets.
In short, you will attempt to know all the details of the platform.
Do not be worried about the copyright issues; WordPress allows you to fully customize your website.
You can edit and change color, add your content and images, and give your website an entirely new look.
Have you ever wondered that from the thousands of themes available in the market, you would detect a theme being used on a particular website? Isn't it scary?
No, it is not, as with the tools and detector, it's pretty easy and straightforward, thanks to the rapidly growing technology.
Before we move and use some tools to detect a theme, let's learn how to find a site's WordPress theme manually.
Just follow the steps below:
Detect a WordPress theme manually:
If you have found a website with your desired theme and want to recreate it, you need to go to your favorite WordPress website.
Right-click on the screen and hit View Page source
From the drop-down menu, a new window will get opened.
Press CTRL + F if you are using a window or CMND + F if you are on a MAC and type style.css into the search box.
You will keep on scroll down until unless you find a code line similar to this one:
<link rel='stylesheet' id='themename_style-css' href='http://example.com/wp-content/themes/theme-name/style.css?ver=1.1.47′ type='text/css' media='all' />
By clicking the URL in the line, style.css file get opened.
At the top of this newly opened block, you will see the header section of the website, on this section, the theme name will be displayed.
Once you have seen the theme name, you can google the name and find the place where the theme is available to purchase.
In most of the cases, when scrolling down to the footer section of your favorite website, you find the name of the theme.
In some cases, the website owners remove this credit line, which makes it challenging to find the theme name.
Since we already have tried both of the methods, let's move on to make use of some fantastic tools that can help us detect a WordPress theme without any hassle and within a few seconds.
Detect a WordPress theme by using IsItWp:
IsItWp is one of the most reliable and flexible tools that is used to detect which WordPress theme is being used by a particular website, and that too, without needing any coding skills and within moments.
It is an online tool that empowers you to look up the theme a website is using and all the plugins.
You don't need to be a tech-savvy person, nor does it demands any website development skills; all you need to do is visit your desired website and copy the link and then go toIsItWp's site and paste the link into the search bar.
Upon pressing enter, you are done with your part. Just relax for a moment and let it work for you.
At first, IsItWp will check whether the website is built on WordPress or any other website builder.
If the platform used is WordPress, it will display the name of the theme that is used by the website.
It will additionally look for the plugins and other features a website is making use of. However, if the theme is a custom WordPress theme or a child theme, IsItWpwon't show any result.
When you have known the name of the theme, you can google it to see if it is available for download or not and if it is, where you can buy it from.
However, what if you already get the theme name and couldn't get anything else?
How would you search that specific theme? Let's try another method that goes extra.
Detect a WordPress theme by using ScanWP:
If you have got the name of the theme, you may have found the author's details as well.
You will have the author's name and its website. Without looking further, you can jump to his website and check out the credibility of their product.
You can check out reviews provided by their previous clients to make a decision about purchasing this theme.
You can do some in-depth research and make sure that the source you are going to purchase links from is trustworthy and reliable.
However, if a situation comes up in which your tools and methods get failed to provide you with all the required information such as the author's name and his website, what should you do?
Here comes ScanWP, which goes ahead of everything and displays detailed information about the theme.
This free online tool tells you the name of the theme, which are the recommended sources or platform you can buy the theme from, and how much the theme costs. Isn't it like an all-round theme detection solution?
That means that finding out the theme name, buying it, and installing it on your website can be done in the matters of minutes, thanks to ScanWP.
However, like the previous tool, if the website is designed by using a highly-customized theme or a child theme, or the theme's developer has hidden the theme details, the tool will end up showing an error.
When the error is displayed, there is a signal to you that you should move to the next solution.
Unfortunately, both of the tools have failed, and you are frightened and panic. You just can't wait to see your desired theme on your own website to make it a platform you have dreamed of.
Is there any other way out?
We understand the situation as we had been there.
Lucky for you, the internet has endless possibilities, and we have vowed to facilitate you as much as we can.
Here is another solution that we firmly hope will fix our theme issues and help you set your website within a few minutes.
Detect a WordPress theme by using Satori: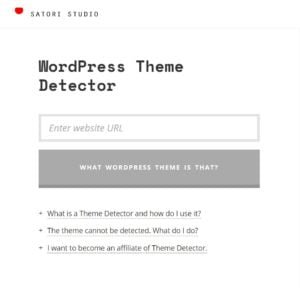 Satori studio is another online theme detection tool that allows you to get the theme details by just copy-pasting your favorite website.
The tool uses custom snippets and deep algorithm to scan any web page and automatically extract current theme information.
All you are required to do is paste the link of your favorite website into the text field of the tool and hit what WordPress theme is that? And you will get everything within a matter of seconds.
Apart from this, Satori helps you find your domain and web hosting, WordPress basics, and WordPress themes and promote your website. It empowers you to optimize your site.
What WordPress theme is that: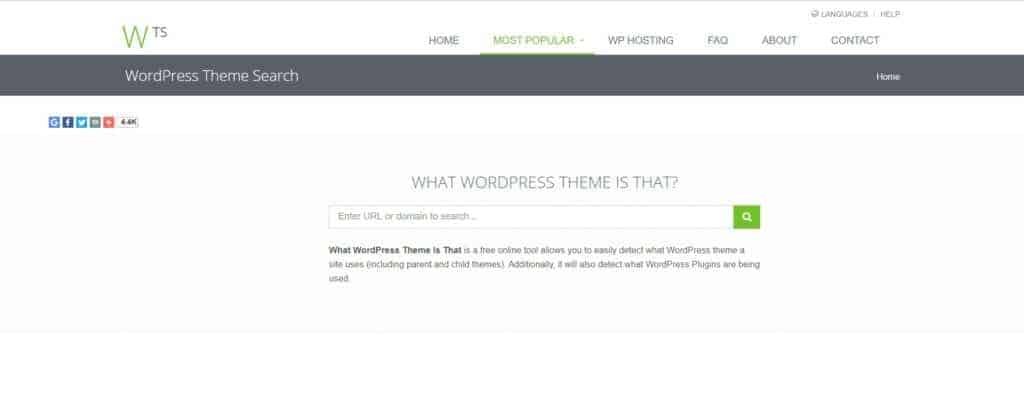 Your question was taken seriously, and they have developed a tool named as what WordPress theme is that.
This is another online theme detector or a tool that automatically extracts information about the theme and plugins a website uses.
Like others, finding the theme details on this online detector is very simple.
Just copy the link of the website you want to use the theme of and paste into the search bar. Press enter and wait for the tool to give you thorough information about the theme.
What is extra in this tool?
Before installing and activating a theme, one would like to have a demo version of the theme so that he can have an idea of what the final design of his website looks like.
And on a lighter note, it is imperative to check out the theme details, particularly its preview before you finally install it on your own website.
By using this tool, you get much of extras.
This theme supplies you with some more details about the theme. For example, it provides you with the author's name, his page or website, and an image of the demo homepage.
What if everything gets failed?
Unfortunately, if none of those mentioned above methods works for you, then is there any other way out?
Let us tell you a simple method to get the accurate details of the theme.
You can simply go to your email and compose a polite email to the owner of the site.
You can ask them about the more details of their site's theme, plugins, and other features they are using on their website.
This is something that often worth a shot if everything else fails. If this fails too, there is another way-no need to get frustrated.
You can choose a ready-made design with at least a similar design and customize it to make it looks like the way you want.
Now that you have (hopefully) detected your desired themes details, you would like to purchase the theme and install it on your website to get a jump start to your online business.
Despite that, you have selected the theme that fascinates you, and you like it the most, there are always huge chances that you would like to customize it.
You can edit and change a theme's color, homepage, header and footer section, or color grading at all. You may need to change the image sizes, and their margins as your images would be different from the one you copied theme from.
To customize your theme, there is no need to learn any designing skills. You are supposed to keep on testing different color and layout schemes and stop when you think that this is what you desired for.
If you have chosen a theme for your website and a demo is what attracted you. Keep in mind that in most cases, what you see in the preview version is totally different from what you finally get.
This is one of the primary problems beginners encountered.
There is a big possibility that you would face the same problem.
To avoid such a frustrating issue, you can read our thorough guide on how to make your final website looks like the one you saw in the demo.
Final Verdict:
The most important part of an online store is to find a reliable and user-friendly theme.
The theme of your website not only affects the appearance of your website but other crucial factors such as SEO-Performance and load time of your site as well.
If you have come across a website whose theme is just amazing, and that is what you have wished for, you can detect this theme efficiently.
We have explained a bunch of tools and some manual methods to detect the theme of a particular website so that you can recreate the same and get your wish theme set and ready to sell.
If you have already found the theme that works for you, then you should focus on content optimization you should check out How To Get A 100% On Rank Math SEO Plugin
Some Aditional Information You Might Find Interesting
I hope you enjoy the content and it was useful for you, please let us know if there is something you did not understand.
we are continuously improving our content to deliver the best and easiest content to understand, and getting your feedback is one of the best ways we can ensure that.
So please head on over to our contact page and let us know hat we can improve.
If you are looking to create your own eCommerce website or start blogging or start a specific website this might help you.
Want to create your own website or eCommerce store and don't know where to begin? I know what you are going through and it's hard to know what will help you get to your desired online goals.
I want to help!
Hosting
If you are looking for a hosting company and you are in a budget you can always go with Bluehost or HostGator these are cheap and if you keep your loading times under 3 sec you won't have a problem.
Once you have generated a lot of traffic and I mean up in the thousands per month you might want to look for a more dedicated solution as it is Sitegrownd. might be a bit more expensive but it outperforms the other 2 hosting companies.
Webdesign For Blogging 
For your first year do not worry about your web design because the foundation for a great  Blogging website is the content.
Yes, you should only focus on content creation.
once you hit the 60 blog postmark you will be able to determine what you want your website to look like, but the traffic from google must be already rolling In.
But if you are like me and don't have any idea where to begin I will recommend the only course you will ever need to succeed online and I can make this claim because it is not a get rich quick scam, as most of the ads online.
It takes a lot of time but the results are astonishing. I tried making money online for 4 years jumping from one course to the next wasting money around the thousands mark. 
I'm currently making income on 3 websites with just content and also have started a youtube channel this all thanks to the process and accountability in the program.
So if you want loads of content, step by step tutorials and a huge community willing to help you with every roadblock you encounter head on over to see Rick and Jim at IncomeSchool 
Webdesign For Ecommerce
You have to understand that eCommerce is another beast and usually, you have to have deep pockets in the advertisement department to achieve 5 to 6 figure income.
But if you are taking this route you do have to make your website awesome from the start. and my recommendation for this is to go with only to options.
Flatsome theme, by far one of the easiest to use eCommerce store themes in the market right now with an amazing on page builder to see the changes as you make them.
So this theme is the one I use and its multipurpose theme with lots of advantages. I create eCommerce, corporate websites, blogs, personal stores, landing pages, etc. you can find a ton of information online on how to use it. and you practically don't need to know any coding. that's why I use It Divi Theme is the most awesome builder I have ever worked with.
Remember that you will have to relly on Ads for these types of websites. but if you want to make a passive income site you will have to create search content and link it to your products and store.
There are many free resources out there please check them out and make your own assessment about the tools and strategy you should follow.
there is no one cure for all bad things. you have to make a tailor-made plan to follow and execute.