73
Want to know what WordPress Themes are the best to use with elementor?
If you can find the perfect combination between page builder and theme, you'll reap the rewards.
That's why I've put together a small list of themes that are made to be used with elementor. Keep reading to discover which ones you might want to have on your website.!
The best theme for Elementor is a theme that doesn't force you into any kind of design direction at all, but it gives you all the tools you need and flexibility to build any type of website you can imagine.
5 WordPress Themes That Work With Elementor
I haven't placed them in any order in specific I think all five are awesome and you should give them a try at some point if you like to work with Elementor. It comes to a bare-bones and you can build anything you want on top of it.
More of that, you have full control over the head area which a three-page builder doesn't cover.
Hi, everyone, my name Marco and I'm the big head behind nondevelopers.com, and in this next post, I'm going to show you what details you should look for before choosing a WordPress theme to make sure that theme is a good choice for peacebuilders like Elementor.
Even though Elemental can work effectively with any WordPress theme, some developers have decided to integrate or make their products specifically optimized for the plugin.
this way they can leverage the power of the builder with the structure of the theme, this can also help them to focus on solving specific problems such as load speed.
This means that you can use them together in perfect harmony.
The first theme in this list is Neeve, probably the best choice for elementor, it is very fast and lightweight out of the box, and the developers are working hard behind the scenes to make a mentor and neve work together as fast as possible before jumping right into the subject.
I would like to make sure there is no confusion between Elementor themes and Elementor templates.
These themes that have been optimized to work well with Elementor in and out, while elemental templates are already made, page layouts that you can import right into Elemental as you are working on any new page.
Here is the original them off Neve, which you can also see on wordpress.org, where you can download Neve for a free by clicking on the image,  this theme comes with an awesome collection of pre-built websites, which you can import in no time.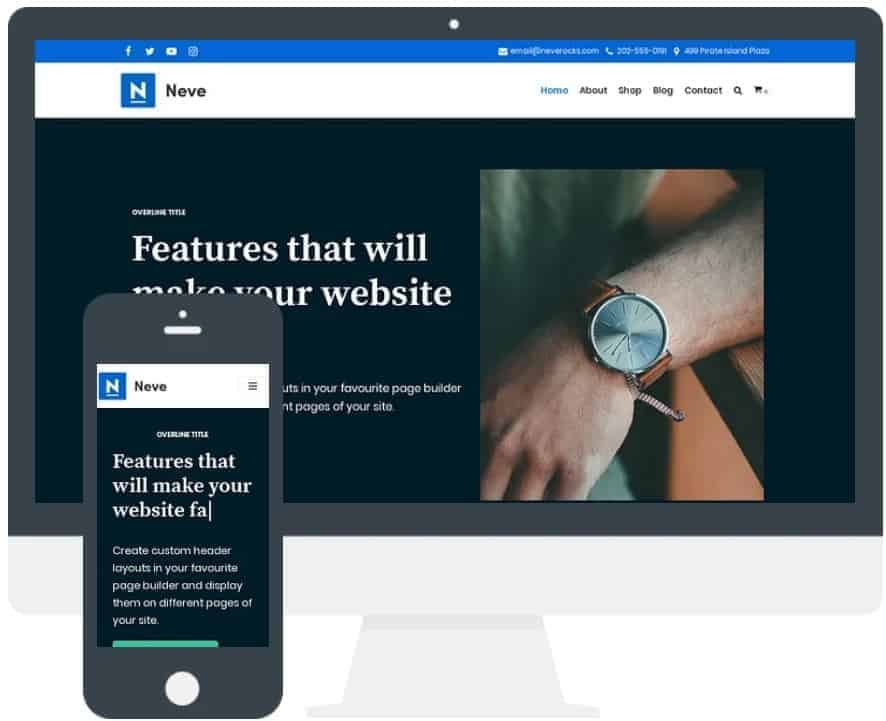 Then you can start customizing the content with a mentor, although the free version comes with enough features and then websites, Neve also has a problem with even more things you would like to have on your website.
I will mention the element or booster, which gives you access to powerful Allans and professional templates for business websites and the header booster, which will take your header builder to a new level with Aasim components like social menu, contact breadcrumbs, language switcher, multiple e-mail, sticky and transparent, menu page, Heather Builder and many more and more about the header and footer builder in the video recommended above. Monogamously, sure, it is optimized for e-commerce and works really great with this plug in to more of that, if you are using elemental proof, you can create good looking product pages from scratch.
Coming back to the Heather area, Neave has a lot of options, which you can access through the customizer, and I really like that it has a cool way to build your header and footer area just by dragging over the elements you want. Check out the video above or the link in the description box to see exactly how Heather and Futer work. Anif comes it for awesome elemental blocks. Some of them are available only in L.A. or pro like the Flipkart, for example, and the Times headline blog.
The Review Box, which looks really great, I think is the best blog I have ever seen for a mentor so far. It will definitely boost your product reviews with image pros and cons, overall rating and so on. The WP Bridge Builder Framework team is made in Germany and they hope is as good as almost every product in that country. They say it is designed for the new war era and the first impression when landing on their home page is way beyond my expectations.
But we want to check this theme for element or so. Let's see how it works. I am still searching for templates or ready-Made websites that can import, but I see only templates available from Element or here. So I think you need to start from scratch with this theme.
This is also a theme that comes a bare bones and then you can change the way or blog typography header and footer looks in the customizer. It actually comes with nothing, just the theme itself and the settings you can access through the customizer. The AVN gives you a bunch of other useful features, like transparent header sticking navigation, Megaman, you call to action button and so on. This is how the homepage looks like when installing it on a new WordPress website.
And then you can add everything you want on top of it with a mentor like so.
Astra is a team that has one of the largest libraries of pre-built websites. Let's see some of them here you can select whether you are using Brizzi, Gutenberg, Beever, Builder or Element or I'll stay with a mentor and you can see that they build both free and pro readymade sites, although you have a lot of options. The downside is that you need to install another plugin called Astra Starter Sites. Select your preferred builder element, or in our case, then you can browse through more than 100 site templates.
Let's try to account on tantalite and see if the time comes with additional blocks for elemental Beigbeder. Basic general and WordPress, so we can observe that there are no other blogs than what element or gives you in its free version. Ocean becomes last, but not least, I am sure that there are a lot of elemental themes out there, but I want to keep videos as short as possible. By the way, they like short videos or longer videos that describe more things about WordPress and its thoughts.
Leave your comment below and I will read and answer it. Once you have installed Ocean WP, you can then browse through a growing collection of professional design, both free and pro Thamel websites, which are all well optimized for Implementor, all you have to do is to get the ocean demo, import plugin, install the demo you want, and then just customize it with elements or. The header and footer area of ocean will be can be changed through the customizer, where it will gain access to settings like height, logo menu, social media, mobile menu and so on.
The top is this green area where you can put your phone, as well as other useful info your visitors can see immediately on your site. Of course, you can change things like colors over here and then you can play with the social menu like. So this is why these things are great for peacebuilders, like a mentor in the free version for both because options to customize the header and footer, for example, are available only for pro users of Element or.
This is it, guys, I want to know in the comments below if there is something I should mention in future videos about these themes or other best themes for Element or I will read and answer all of you guys. If you are new to the channel, make sure you hit the subscribe button and then ring the bell so you won't miss any new video we publish about WordPress. See you in the next one. Cheers.