82
Transcription Jobs are one of the most simple and profitable ways to make money and really fast.
the best thing about it is that you will get a lot more proficient when time passes so the work will become a lot easier to do.
What is the Transcription? And who is the Transcriber?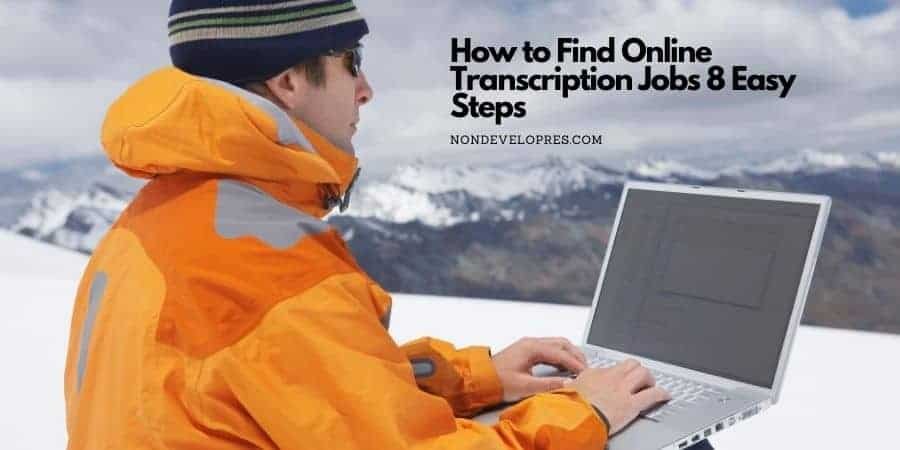 Transcription is a process of converting the spoken language (recorded audios or videos) into the written language (documents or electronic text in the shape of the report) that can be easily printed.
A transcriber is a person who offers his/her services of transcription that could be further used for many useful purposes.
For instance, for medical, Legal, Business, or more interestingly to convert the recorded interviews into the written speech as exactly they were uttered, commanding accuracy in punctuation and grammar.
Transcription Jobs Skills:
Transcription is a skill and it can be learned, which makes it very useful to have in your resume, your skill level will be determined on the accuracy of the transcript validating context but mainly on the speed, you can deliver your work.
The process can be automated and there is a lot of software that can help you do that. but keep in mind you should proofread your work, the context must match.
Some transcription jobs are very well monetized so keep in mind that this might be a second stream of income you might want to research.
How to find online Transcription Jobs?
If you hope for becoming a transcriber and looking forward to making money from home by legitimate transcription jobs, you have got at the right place here you will find guidance from front to back about emerging as a Transcriptionist.
With the rise in the demand for transcribers, the competition is becoming tougher and tougher every day.
But if you have exceptional typing, listening, and grammar skills, then your decision to become a transcriber is 100% right; rest assured, many companies offer work from home to competent transcribers like you!
The good news? Yes, they as well pay a handsome amount.
Below are a few companies that offer work-from-home jobs for beginners.
1-88-Type-It-Up is a company that is furnished with a brilliant team of transcribers, but their doors are always open for the fresher too.
So, you are in luck! But wait! Not that fast.
They have got eligibility criteria.
Pass their transcription test; meet their formatting and accuracy standards.
And you are hired. One more thing, you have to be a citizen of the US to become part of the team.
No transcription experience? No problem! But you have to be somehow experienced in word processing.
Plus, proficiency in the English language, grammar, and punctuation are required.
You also must be a resident of the US.
A company that is always in search of new talent is "AccuTran Global.
" If you are living in the US or Canada and are flexible to work with the company, just apply for it.
Pass the test, and you are qualified!
Appenscribe examines your proficiency in English or any other native language through some tests.
As the company offers worldwide jobs, if you know multiple languages, your chances of getting a job are higher.
A top-rated and flexible company to hire transcribers is Babbletype.
No hourly or weekly commitments.
It offers a turnaround of about 24 hours to the transceiver, but to be a part of it, you'll have to pass a series of tests.
Aberdeen
Aberdeen is a company that provides real-time jobs for transcribers, captioners, editors, translators, and transcriptionists.
By working with this company, you have the freedom to work from home or in their office at Orange County.
A firm that hires transcriptionists to work on-site or from home, both.
It offers its transcription services to the government, law enforcement, and other organizations.
Hence, passing the FBI, state tests, and the criminal background check is a must for the applicant.
Cambridge Transcriptions
Cambridge Transcriptions hires on-site and off-site transcribers but only with a heavy experience.
This is a Massachusetts based company and offers only part-time jobs to legal.
Capital Typing
This is an outsourcing company based in South Carolina. It offers virtual office services from home.
Other than data entry and transcribing jobs, it also gives online customer support, translation, and secretarial services.
Birch Creek Communications
Birch Creek Communications sometimes has basic level data entry jobs, but it mostly hires experienced corporate and legal transcriptionists.
The rate for the legal transcription is $0.75 – $1.75 per page, and for corporate, it ranges from $0.40 – $1.00 per audio minute.
The applicant must be a US citizen.
The company may require a background check as well.
How To Avoiding Scammers And Find The Right Transcription Job
Here we are going to dig deep into the details of the ways that you can come up with to find the best transcription jobs by avoiding scams.
1. Contact information
Don't forget to check the company's address and contact information because the legitimate company never hides her contact information and history.
About Us, page tells you more about the background of the company, and perhaps CHAT ONLINE service can aid more in determining the existence of the company.
The company with no contact information is not genuine, illegitimate, and of course, scammers are going to make a quick buck off of you.
STAY SAFE!
2. Your contact information is required
Scammers are going to ask you your personal information like your name, address, contact, age, email.
For example, if you are going to respond to unexpected pop-ups, to validate, and confirmation of your information texts or emails, then you might be going to be a victim of SCAMS.
BEWARE of sharing personal information even when you are not aware of what sort of transcription jobs are available and what are you going to be offered, this can harm you to the extent you can't even think of.
3. Website uses Geo-Targeting
Most of the scammers are going to use the GEO-Targeting to astray you.
Geo-Targeting refers to specific geographical locations. For example, if you are living in Chicago, the website will show you a message similar to this "these transcription jobs are for the people of Chicago only."
This is the common tactic that is being used by several Scammers to exploit you
4. Only a few spots remaining!
"Be quick; only a few spots left."
"We are the best company."
"Just become a millionaire within a month."
"Just pay us a little and earn more."
"What are you waiting for? Join us!"
This is what a legitimate Transcription Company will never persuade.
5. Fake Reviews and testimonials
Testimonials and reviews help the customers to determine whether to buy products or services from a company or not, as they are considered to play a vital role for every online business to boom.
The testimonial is very much a thing! But most of us even don't realize that fake reviews do exist on websites, Google, and Social Media.
When you come across the testimonial, it becomes your obligation only if you are in the pursuit of Transcription jobs without scams to figure it out whether they are written by real people or are just SCAMS to attract you!
But it may lead to you wonder how you can determine and the authenticity of such appealing testimonials that are either going to scam you or BENEFIT you. You can make sure that you are not falling for the reviews by reviewing reviews again and again and responding to them.
6. Many trust badges
Has it ever happened to you while searching for a legitimate online transcription job you may reach to the website that shows you the most fascinating and trusted badges from MSNBC, Fox TV, McAfee SECURE, and CNN?
This is nothing but a trap to scam you!
7. Spend money to make money
The legitimate company is never going to ask you to pay them for a job.
After all, they are well-reputed companies and going to offer you a job.
How can they loot you by asking you to spend money to make money?
It seems WEIRD!
Yeah, it is.
But you are not going to be worried about it at all, as we have already shared the most trusted and legitimate companies above that are offering you jobs with no experience and any charges to pay them.
Congratulations! You are safe from scammers!
8. Non-Existent contact information
How can you interpret if a company is legitimate or a scammer is not that much complicated?
Just go to the company's address, check out their email, address or phone, make them a call if a call is responded by a real person instead you receive a voicemail message within three working days then it makes a verdict that you are on your much way of success and accomplishment.
The nightmare of being scammed is not going to haunt you anymore!
Best Video Transcription Software:
There is a variety of the human-based and technological transcription tools and software that are used to generate videos into text.
Rev offers you automated and human-based transcription services, with the lowest expense.
Using automated services, you just need to paste the URL on the rev website.
It will correct your text to the greatest degree of 80%.
Your first attempt to enjoy the service of REV will not cost you for the first 45 minutes after this free period ends; you are going to pay them the least $ 0.25 per minute.
REV being the highly rated transcription software, offers you human-based paid transcription service.
Enjoy REV transcription services by downloading its app on your mobile with an accuracy of 99%.
You may find REV expensive, and then here is a choice TEMI, that is owned by REV.
They assure you 88% accuracy with the lower rates than REV $0.25 per minute. But never let it be skipped; only the most Accuracy in your transcription leads you to ultimate success.
Describe offers you both the human-based and automated transcription services; it may cost you no more than pennies per minute with the same accuracy that REV offers you.
You can download it for free.
Express scribe is the software to transcribe audio that can be downloaded with its both pro and free version for PC, and Mac design supports to transcript audio recordings.
The free version includes wav, mp3, wma, and dct. You can upgrade the professional paid version as per your need for more accuracy and proficiency.
5. Professional Foot Pedals:
If you are using any of this transcription software, you may want to increase your productivity and efficiency of this transcription software by purchasing professional foot pedals.
Professional foot pedals work very quickly, leaving your fingers free to type.
It increases your word per minute, it is very easy to use and install it by following the instructions of setup, rewind, play/pause, and fast forward.
Express Scribe transcription software is an awesome tool with its promising features that are designed to work with Professional Pedal Tools to help you enhance your productivity and accuracy.
Professional Foot Pedals are suitable for Mac and PC both. If you are longing for high rated accuracy and proficiency, then Express Scribe with Professional Foot Pedals is a great choice for you.
Final Verdict:
So this was our complete guide about how and where you can begin as a transcriber.
We have pondered light into the various ways, tips tricks, and Legitimate Transcription Companies that would not only protect you from scams but offer you some fruitful opportunities too.
I hope it works for you! Good Luck!
If You like the Post, you might want to check this one as well.