78
We're humans, and as we all know, humans adore things that are intuitive and rightly meet their demands. The same goes for websites; users on our sites expect our websites precisely according to their needs and requirements.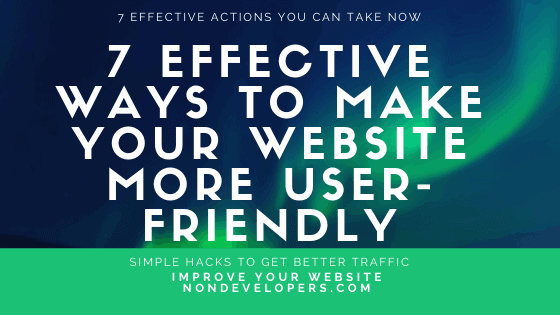 You Might not make them all happy but here are 7 Effective Ways To Make Your Website More User-Friendly
Long gone are the days when a website would be just a mix of text and information. In this age where the world has evolved into a global village, the user needs something intuitive, user-friendly, and above all, rightly delivering what it's intended for.
So the question arises, how to make a website user-friendly?
Okay, we're going to tell you some excellent ways that will not only make your website look more user-friendly, but improve your Google rank as well. Sounds interesting, isn't it?
So let's have a look at some of the best ways to make a website user-friendly.
# 1 Deliver What Your User Wants
No one knows better about your website than people who're using it. They'll come up with ideas and suggestions that even you can't think about.
So if you want to make your website a user-friendly website, you have to allow your audience to tell you about the missing pieces. It could be either the comments or the surveys you're running on your site.
It's up to you which strategy you use to know the intentions of your audience. You'll be amazed at how better your site performs after listening to the things that your user likes and dislike about your website.
Side note: If you're looking for great hosting services you should go to this article we previously wrote called
# 2 Improve The Speed Of Your Website
Do you know?
53% of the user doesn't visit the site the loads slow.
Well, it's true. In this age of fast internet, the user wants the website they're visiting to load as fast as lightning. How fast is a website supposed to load? Well, the average speed for a website to load in two seconds.
Users will abandon your website if it takes more than three seconds. So it rightly indicates that the speed of the site matters a lot.
But how can I check the loading speed of my website?
Google's Page Speed Insight and Pingdom are some of the best places to check the speed of your website.
Plus, these sites also provide some helpful tips to improve the speed of your website, such as compressing the images for better optimization.
You have to go check out the full article we did on improving loading speeds.
# 3 Provide A Complete Solution
When someone visits your site, it means they are looking for something which helps them in the best possible manner.
If you provide all the information, it will significantly help them make their decisions in the best possible way. As a result, it brings you more loyal and regular users or customers.
From the basic information to in-depth analyses of your product or service, you have to keep everything in your mind.
Providing a detailed analysis is the only way to win against your competitors.
# 4 Use Your Call To Action (CTAs) In An Effective Way
CTA also plays a vital role in making a website more user-friendly.
For people who aren't aware of CTA, it's a marketing term that means any message or information that persuades the user for immediate action or sale.
And that's why it's a crucial thing to consider. Placing your CTA in the right place is of high importance.
Your CTA should be strong enough to persuade the user to respond. Plus, it should be in a place where it's easy to locate.
 You might also be interested in this information if you have currently a project underway How Can I Protect My App Idea? Or Should You
# 5 Pay Attention To The Colors
Pay close attention to the scheme of colors you're using for your site.
Use colors that bring a striking balance between elegance and clarity.
The colors you're using on your website should genuinely resemble what services or information you're providing to users.
It should both look pleasant to eyes and make the text easy to read.
# 6 Add An About And Contact Us Page
Your contact information plays a significant role in building the trust of your users.
If you're selling your services or a product, having an about and contact page becomes very important.
You should clearly state the following things in about and contact us section:
Who manages the site
Your complete contact information such as email and phone number(if possible)
Who are the authors and what is their expertise
Google considers the trust of users among the top things for ranking sites. The more trust your user puts in you, the better the rankings.
 # 7 Make Your Site Layout Mobile-Friendly
You'll be surprised to hear that 80% of the users on the internet own a smartphone.
Due to its portable nature, the percentage of people accessing websites through their smartphones has largely been increasing.
You should ask yourself, "Does my site performs well on smartphones as well?" If the answer isn't positive, you need to work on that.
You should design the layout of your website in such a way that it looks good both on desktop and mobile.
Sometimes we ignore this critical factor; however, you'll observe a significant improvement in the performance of your site if you keep improving the layout for smartphone users as well.
How to test if your website is mobile-friendly?
The first thing to do is to enter your website address into your smartphone browser. Check if the text of your site is seen clearly on your smartphone? Can you clearly see the important contents of your website on your smartphone? If the answer is a "No," you've to bring improvements in this regard. Using the right theme and font can help you a lot.
The second thing to do is to check whether your site loads faster on smartphones. You can use services such as Google's Mobile-Friendly Test or Google's PageSpeed Insights in this regard. If your site loads slow on a smartphone, you should improve it by using the methods I stated earlier above.
If you follow the above seven things, I'm pretty much sure it will make your website more user-friendly.
Keep following these steps and bring improvements to your site accordingly.
I hope you enjoyed reading this guide. Thank You!
This Solution Will Take Of Solutions 2, 5 and 7 By Just Having It.
There are some technical aspects to getting your website to where hundreds of pro have gotten them so they can get hundreds of hit a day.
You can get a lot done with just one action you can take.
Select The Right Theme My theme to go and simply because it's easy to customize and fast its the Divi theme
Just by having the right theme you can correct the loading speed since the theme does this automatically, you can also use premade layouts that have correct color scheme already test out.
They pretty much give you the work done.