86

What Is The Easiest WordPress Theme To Use?
What is the easiest WordPress theme to use would be your very first question if you are interested in making a living off the internet, right?
After years online I have found 2 of the easiest WordPress Theme to use, and I have successfully been running a web design business with them. It makes it easy and cost-efficient even if you don't know how to code. Both of them have huge libraries to execute almost anything you would need on a website.
With the rise in the internet, most businesses are attempting to transfer from offline setup to online, from a shop or a brand in a supermarket to a brand website online.
Today's advanced technology and easily accessible internet have changed the trend; in fact, revolutionized the world.
People are avoiding going through the markets and purchasing their desired items.
It is quite possible to order a cup of tea or a washing machine at a single click, thanks to the fast-moving internet.
Moreover, due to COVID-19, which has closed off everything around the globe, the world is facing a challenging time.
The world's governments are encouraging their citizens to stay at home and maintain as much social distance as possible.
Therefore, in this situation, to get anything at your doorstep is not only safe but comfortable as well.
Therefore, in such conditions, entrepreneurs have a big opportunity to get their business recognized and make it a word-known brand. Today, there is a big chance to make money online than ever before.
With that much fast-faced technology, it is not a big deal to generate revenues off the internet.
However, it is not as simple as one might think.
One of the most popular ways to earn money online is through eCommerce.
You create a website, start selling your services or products, and here it is, a flowing river of dollars.
Do you know that one thing with which all the beginner eCommerce enthusiasts struggle?
Yes, with over 10,000 WordPress themes, it is tough to find the easy-to-use and flexible theme.
Most of the available themes are adorned with tons of options that make them difficult to use.
Those complicated themes are hard to set up and use as if an error occurs, it becomes next to impossible to fix it for a person who is not tech-savvy or a newbie who is just stepping into the world of eCommerce.
Furthermore, it will waste a lot of time which can be invested in some other productive stuff.
In most of the cases, these themes take a lot of time to load, thereby affecting your website's search ranking.
With the easy and user-friendly theme, you can save your time setting it up and focus on generating compelling content, doing market research to know your customer's needs, link building to your website or brand, and advertising of it.
However, "is there any single theme that can fit all use-cases?" is one of the most frequently asked questions. With over thousands of themes, how one can test all of them to select the most appropriate theme?
We have done extensive research to find the easiest and flexible theme that a beginner can use to start his online journey.
We have hand-picked some of the most flexible, clean, and easy-to-use WordPress themes that you can install on your website to give it a new look and that too, without any hassle.
Before we move on to learn how to choose the easiest WordPress theme, one question that might have popped up into your mind would be, what attributes one must look for in easy-to-use WordPress themes?
There are many themes out there with tons of options and attributes.
It is not an easy task to pick the one that meets your needs as each one of them has its own advantages and characteristics.
However, there are many things you should look for in a WordPress theme.
Let's take a look at these must-have attributes.
To create a website and to make a living off of it is a fancy idea—everybody desire to run a business from the comfort of their homes.
However, learning coding and website development is time taking process, and not everyone can code and create a website.
So, being a newbie, you would probably need a theme that is equipped with an in-built drag and drops feature.
Or a builder that is compatible with any of the premier builders available in the market.
Hence, the first attribute you need to look for a WordPress theme is the Drag and Drop option.
Demo importer is the second most-wanted attribute that your themes should contain.
It is challenging to deal with a complex system to make customization.
Working on hundreds of windows to edit and customize your design result in frustration.
There must be a demo-importer that creates you a full-fledged website, and you just need to change images and test.
A demo-importer will import a site from preexisting designs and allow you to choose the one that is similar to the style you want and customize it to give it a look you want.
There is a myth that the easiest WordPress themes are limited in options and function, and one must opt for high-quality, over-burdened, and more complex themes.
Many flexible themes are multifunctional and equipped with all the features one must possess to run an online business.
Hence, without any further ado, let's start knowing the best and simple WordPress themes.
Ever wondered why Divi is one of the most popular WordPress themes?
The answer is simple. The Divi's parent company, Elegant Themes, is leading the WordPress themes industry.
This beautiful multi-purpose WordPress theme is included in Elegant Themes' theme club membership, which allows you to have access to two themes that is Divi and Extra and two plugins.
Let us review the services Divi offers to its millions of users.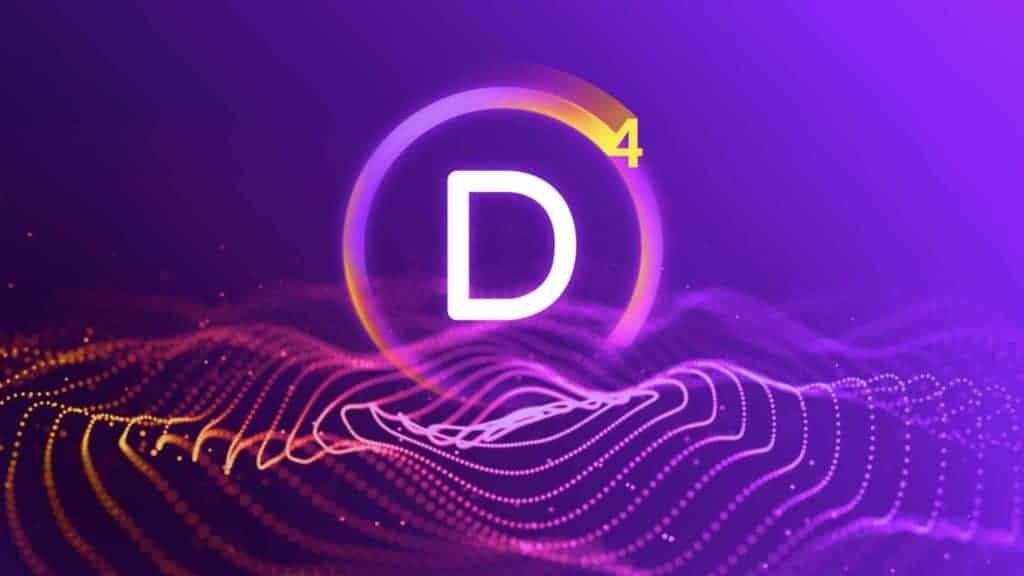 Upon purchasing the Elegant Theme membership, you will find two flavors of Divi, Divi theme, and Divi page builder.
One of the significant attributes of an easy-to-use WordPress theme is its Drag and Drop feature.
It allows you to build, edit, and customize your website at the course of a few clicks.
All themes released by the Elegant Themes are equipped with Drag and Drop Divi builder that empowers you to quickly build and customize your store.
One major factor to consider when creating a website is to opt for a theme that is fully customizable like Divi.
However, what would you do if you want to use a different theme but still want to enjoy the Drag and Drop feature? You can use the Divi page builder that allows you to fully customize your website or store and give it a look you desire for.
With Divi page builder, you can easily and drag and drop columns, rows, and modules to create a beautiful design of your own.
There is no need to be worried about the coding skills; you don't need them. You can create a fully customizable website in no time at all, thanks to Divi page builder. You can add, remove, or duplicate all the layouts at a few clicks.

The Divi theme is adorned with a bundle of ready to use layouts that you can use to build your store.
These are complete designs with different colors and layouts.
Divi understands that creating a brand new website demands time and some designing skills as well; therefore, it has built you a pack of pre-made designs and layouts.
From the vast library of preexisting design, choose the one that you think will meet your needs and you can infinitely customize it to give it a new look of your choice.
Each website pack is created for a specific type of website with 7 to 8 pages/layout. All you need is to select your category.
For example, if it's medical, choose a design from that particular category, import it to your WordPress, and BOOM your website is ready. Just add your content, do some customization if needed, and enjoy!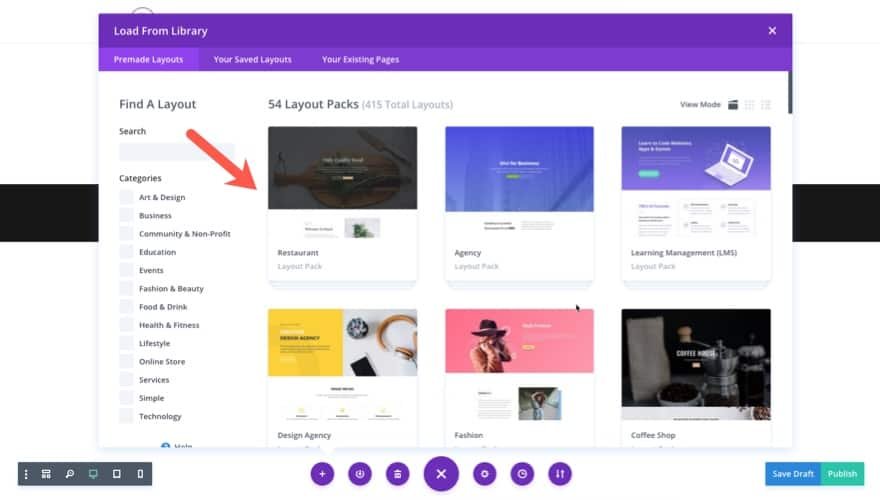 It is an undeniable fact that working on tons of windows is time taking and sometimes creates frustration.
With WordPress, you click on the Preview option to see what your website will look like as you are customizing.
However, with Divi, you get a live preview option so you can have an eye on your website as you are editing it.
No need to each time click on the preview to see what it will be like, thanks to Divi.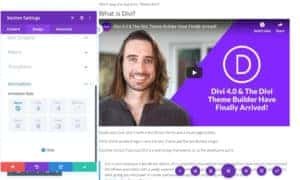 Themify Ultra
How will it feel like if you get your website designed the way you imagined it and that too, without hiring a developer?
Just Amazing, right? Now, you can do it with Themify Ultra, which comes with tons of pre-made designs and layouts to choose from.
Ultra-theme is powered by a well-known theme developing company Themify. Themify has equipped its Ultra theme with 60+ preexisting designs and layout that you can import at a single click within a few seconds.
All that is like drag and drop-super easy that even a layman who has nothing to do with tech skills can make it without any hassle.
Let us review some of its extraordinary features.
Importing demo site, that one time needed hours of customization is doable at a few clicks.
Most of the themes require you to do a lot of customization to make your website looks exactly the same you want or your demo site.
However, with Themify Ultra importer, you can choose a demo design and import its content with just a few clicks.
From its vast library of demo websites, you can opt for the one that suits your needs and import it.
Flexible Portfolio Options
Have you ever wondered what compels a random visitor to be your regular customer?
Your Portfolio. How many clients are satisfied with your services, their reviews, and a glance at your previous accomplishments?
This is all a newcomers search for before making any purchase.
To show your portfolio precisely the same way you do a blog post is a blessing.
Now with portfolio plugin powered by Ultra, you can show your portfolio content on your website the same way you publish your pages or posts.
Similar to post and page editor, the portfolio editor is equipped with drag and drop builder.
Documentation and customer support
To operate something you are not familiar with is always a tedious job.
Themify has provided the complete documentation and full support that walk you through the entire list of its features. They offer 24/7 support through emails and community forums.
If you feel any difficulty at any point, just scan the documentation, and you will get your issue fixed. However, if the problem is still encountering you, just reach out to their email or their community forums, and they will guide you through the entire process to remove the error.
One of the essential tasks in an eCommerce field is to customize your imported designs.
It's pretty simple and easy to import a pre-made template and get your website done without needing any developer or programmer.
However, designs are not always similar to the one you require, so you demand customization.
The smoother the customization, the more time you get to invest in other productive activities.
With Themify built-in customizer, you are allowed to use two options, basic and advance.
The advance option empowers you to customize the mobile menu and forms, etc.
Conclusion:
Often, most of the beginners who are just stepping into the world of eCommerce ascertain about one thing, what is the easiest WordPress theme to use?
They have the right to ask this question as being a newbie; it becomes hard to choose the perfect theme that can cut their long hours of work into short.
From the vast library of themes available in the market, one must be very careful in choosing the most suited theme.
Most of the complicated and multifunctional themes are complex and hard to learn.
Hence, it is imperative to select an easy, flexible and error-free theme. Through our detailed research, we have deduced that the Divi Is the most natural WordPress theme to use.
From its built-in page builder to drag and drop feature, it's just amazing.
The number two in our list is Themify Ultra, which is a masterpiece of Themify. You can briefly examine both of them and choose the one that suits you.
Some Aditional Information You Might Find Interesting
I hope you enjoy the content and it was useful for you, please let us know if there is something you did not understand.
we are continuously improving our content to deliver the best and easiest content to understand, and getting your feedback is one of the best ways we can ensure that.
So please head on over to our contact page and let us know hat we can improve.
If you are looking to create your own ecommerce website or start blogging or start a specific website this might help you.
Want to create your own website or eCommerce store and don't know where to begin? I know what you are going through and it's hard to know what will help you get to your desired online goals.
I want to help!
Hosting
If you are looking for a hosting company and you are in a budget you can always go with Bluehost or HostGator these are cheap and if you keep your loading times under 3 sec you won't have a problem.
Once you have generated a lot of traffic and I mean up in the thousands per month you might want to look for a more dedicated solution as it is Sitegrownd. might be a bit more expensive but it outperforms the other 2 hosting companies.
Webdesign For Blogging 
For your first year do not worry about your web design because the foundation for a great  Blogging website is the content.
Yes, you should only focus on content creation.
once you hit the 60 blog postmark you will be able to determine what you want your website to look like, but the traffic from google must be already rolling In.
But if you are like me and don't have any idea where to begin I will recommend the only course you will ever need to succeed online and I can make this claim because it is not a get rich quick scam, as most of the ads online.
It takes a lot of time but the results are astonishing. I tried making money online for 4 years jumping from one course to the next wasting money around the thousands mark. 
I'm currently making income on 3 websites with just content and also have started a youtube channel this all thanks to the process and accountability in the program.
So if you want loads of content, step by step tutorials and a huge community willing to help you with every roadblock you encounter head on over to see Rick and Jim at IncomeSchool 
Webdesign For Ecommerce
You have to understand that eCommerce is another beast and usually, you have to have deep pockets in the advertisement department to achieve 5 to 6 figure income.
But if you are taking this route you do have to make your website awesome from the start. and my recommendation for this is to go with only to options.
Flatsome theme, by far one of the easiest to use eCommerce store themes in the market right now with an amazing on page builder to see the changes as you make them.
So this theme is the one I use and its multipurpose theme with lots of advantages. I create eCommerce, corporate websites, blogs, personal stores, landing pages, etc. you can find a ton of information online on how to use it. and you practically don't need to know any coding. that's why I use It Divi Theme is the most awesome builder I have ever worked with.
Remember that you will have to relly on Ads for these types of websites. but if you want to make a passive income site you will have to create search content and link it to your products and store.
There are many free resources out there please check them out and make your own assessment about the tools and strategy you should follow.
there is no one cure for all bad things. you have to make a tailor-made plan to follow and execute.
here is an article that might interest you.