75
These are the 5 best WordPress themes for small businesses
Without a doubt, one of the most things demanded today is entrepreneurship.
More and more people are joining to launch their own personal project, which in fact many of these people achieve the success of their companies due to their economic results, exponential growth or agreements between other companies.
One of the things that you should always keep in mind at all times is to choose the right theme for your small business, as this is of vital importance when applying a good online marketing strategy.
This must-have special characteristic, such as, for example, that it has a modern design, that it adapts easily to mobile devices, that it has a clean code optimized to position itself in Google, Yahoo or Bing searches.
However, if you do not know themes that are specially adapted for your business, then do not worry, since today we bring you a list of the best 5 Best WordPress Themes for Small Businesses.
Note: These options I bring you are recompiled from my experience as a web designer and digital consultant. I have worked with all of them and know their capability. If you have any questions do not hesitate to write. you can find all our information on our contact us page.
Best WordPress Themes For Small Business
If you are wondering why WordPress? or what is it? you can check out the previous post explaining what WordPress is and how easy it is to use.
so you can head to What Is WordPress And What Is It Good For?
Surely you have been struggling to find the right theme for your small business, however, you don't have to worry, since as we mentioned before, we bring you the best themes for your small business.
#1 And The Best Theme For Small Businesses Is DIVI THEME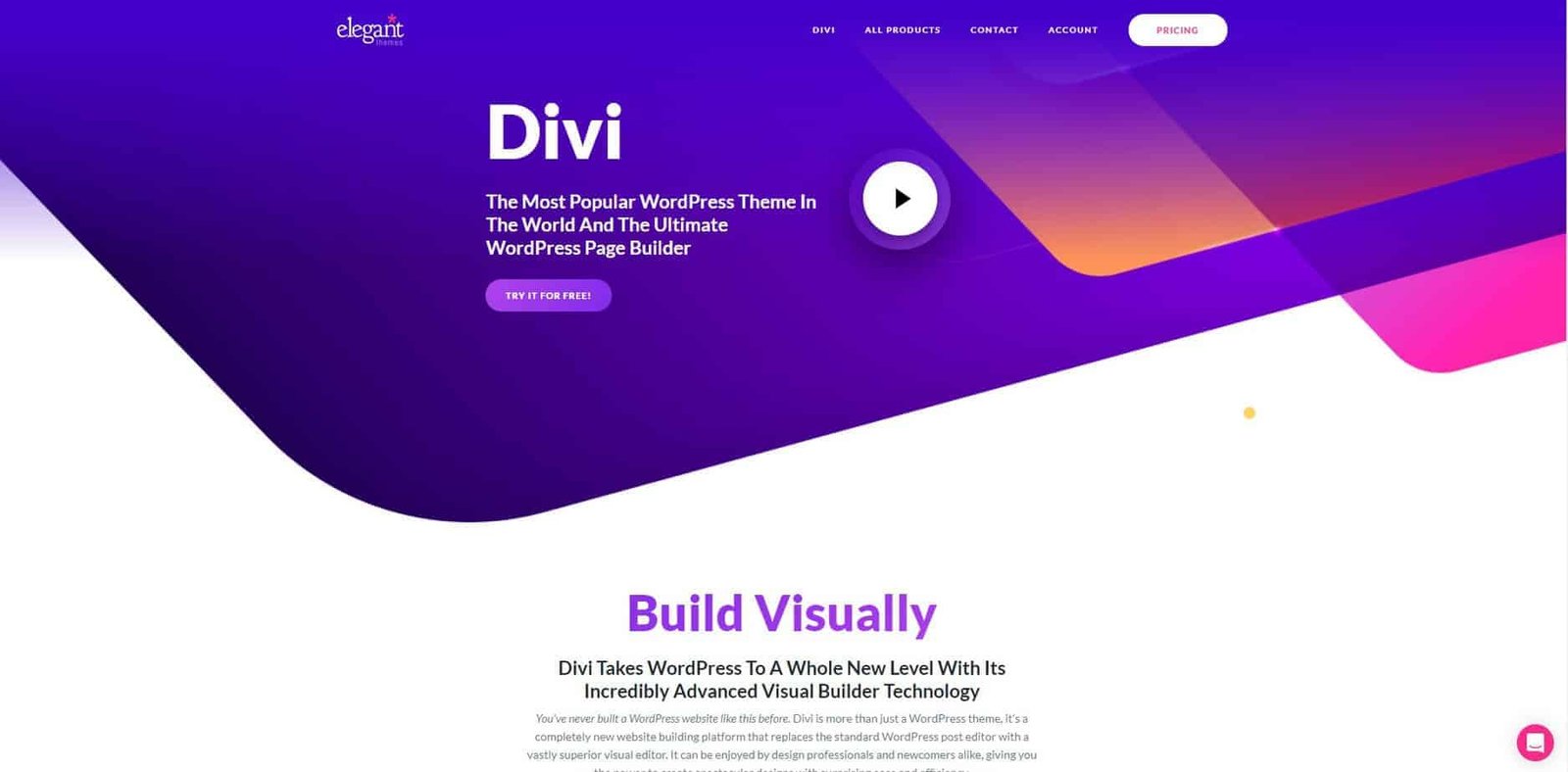 This is undoubtedly one of the most popular WordPress themes among users, this is due to its great versatility and efficiency at the time of being personalized. It has a highly flexible design, it also has a page builder, which is Divi Builder, which has a drag-and-drop graphical interface, with which you can give your small business your personal touch and thus be able to differentiate yourself of your competition.
It should be noted that if you buy the paid version of Divi, you will have access to all the other themes of Elegant Themes. With approximately 550,000 satisfied customers, Divi is definitely a choice you won't have to worry about.
It is important to know that it has more than 100 predesigned demos of complete sites and about 800 designs ready to install with a single
click.Choosing Divi as the theme for your small business you can have different types of characteristics such as: this is adapted 100% to all types of mobile devices and retina, it is also fully optimized for search engines. On the other hand, it has solid security against malicious attacks and offers interaction with the free plugin for stores.
It should be noted that this is translated for 32 languages, including Spanish, in addition, this has something that makes it different from other templates and that is that it allows you to perform a conversion factor test for various content presentation formats, which is undoubtedly interesting if you want to analyze what is the most effective way to present the content that you upload to your website, in this way you will be able to reach the maximum number of conversions.
Disclaimer: My blog is developed with Divi and not only my website but also the websites of many of my clients. Not only do you have a good starting point with the hundreds of layouts they provide, but you also have the easiest builder to use to customize all aspects of it.
If you want to know more about this topic, you don't just receive the theme, but also the DiviBuilder that you can use in hundreds of themes similar to divi, the Monarch plugin that helps you generate buttons for users to share on social networks if not also the Bloom plugin which gives you perfect integration for your email marketing campaigns. Learn more about all the options that divi can offer you by clicking on this link.
Extra Theme Included
This theme is perfect for magazine-style blogs, great for creating entertainment sites.
Divi Builder PlugIn Included
You can install the builder in the same way as elementor, it will allow you to design in the same way as the theme.
Bloom Plugin Included
It is the easiest way to design email capture forms. Many end up acquiring these plugins for $ 30 later but in divi it ​​is included.
Monarch Plugin Included
Increase the interaction with your audience and make it easier for them to share your content with this great plugin.
Now moving on to the next four, yes you notice I have spent a lot of time explaining the Divi theme but it's simply because the cost is very low for all the benefits you can acquire with it.
The next 4 are good themes but I must say that I'm biased towards divi you should check it out.
#2 TheGem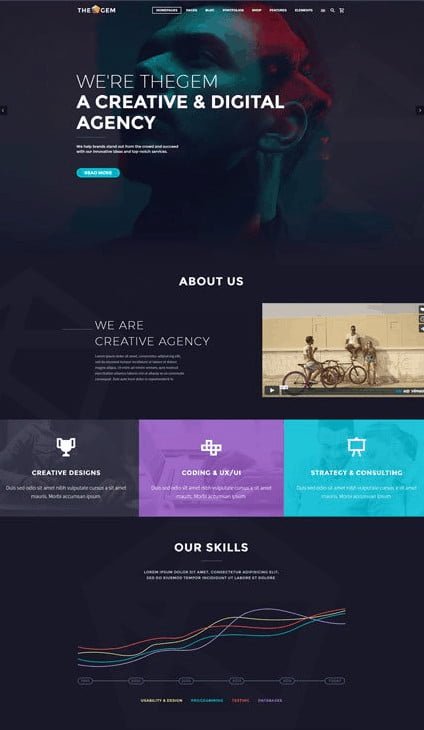 It is a multipurpose WordPress theme, which has high features and also has a sophisticated and elegant design. Without a doubt, it is the perfect theme for all types of websites, whether they are small or medium-sized companies.
In addition, this theme includes the same package 98+ predesigned and unique demos, which cover a high range of businesses. It should be noted that all demos can be imported with just one click. When installed, you can combine elements from different templates, allowing you to create a website with a unique and 100% original appearance.
#3 The Bridge Theme
This is definitely a safe bet. It is an impressive theme that in fact has everything you need to be multipurpose.
It has around 400demos pre-designed ready to be installed with a single click, of which we can find 300 designed specifically for companies, and that also meet a wide range of businesses, and if you want to know how reliable it is, then the 130,000 People who purchased this theme claim to be more than satisfied with this template.
The bridge is a subject in fact quite flexible since it can be used by any company, be it a creative agency, consultancy, notary, law firm, among others.
It is undoubtedly a quite customizable theme through its administration panel, in which you can choose between unlimited colors, upload your logo, set the style of the header and footer of the page, among many other things.
On the other hand, it includes free in the same package the popular plugins that are Premium such as the WP Bakery Page Builder and Layer Slider with drag and drop graphical interfaces, which is undoubtedly useful since you will not need advanced knowledge in program icon Web.
On the other hand, Bridge offers integration with the free extension for WooCommerce online stores, with which you can more easily sell your products from your website.
It is important to know that the Bridge template offers integration with a completely free extension for WooCommerce online stores, which will allow you to fail to sell products from your website.
In addition, it has video tutorials that will guide you step by step in the installation process of your website. Also, the code of this template has a code optimized for search engines.
#4 BeTheme
This is undoubtedly one of the best WordPress themes since it was developed primarily to offer a complete solution for any type of business that requires a web page.
This stands out from the previous model's thanks to its 450 demos, which have been pre-designed and can be easily installed just like the previous ones with just one click.
It is important to discard that BeTheme comes with 2 graphic tools, which will allow you to create your page as you wish.
On the other hand, thanks to its advanced panel, you can adapt this theme with endless colors.
It also has special effects that will make your website look like a professional place, such as the parallax effect and the background videos.
It should be noted that it has 20 customizable header styles and about 200 shortcodes that will greatly facilitate your work.
One of the things that people who have acquired this template for WordPress liked the most is the adaptation it has for mobile devices and tablets, it also works perfectly with any type of browser, and best of all it is compatible with the plugin of multilanguage sites.
Likewise, Betheme is compatible with an infinity of extensions for WordPress, some of them are WooCommerce, Contact Forms 7, Yoast SEO, Mail Chimp, W3 Total Cache, bbPress, BuddyPress, The Event Calendar, Cookie Law Info, among others.
#4 Enfold
Basically it is a template for WordPress, which will allow you to create your website in a few minutes.
It has an infinity of characteristics that will make your site the best on the internet, in addition to having a fantastic support, to which you can ask any type of doubt that arises when installing the template.
To tell the truth, the Enfold template is completely customizable, since it comes with an extensive catalog of options that will allow you to change the design, colors and typography of your website with just a couple of clicks. It should be noted that this has about 38 demos ready to be installed whenever you want.
On the other hand, this WordPress theme has a graphical drag-and-drop page creation tool.
With this you can create, for example, an online store, all thanks to its free WooCommerce plugin.
This is translated for more than 20 languages, including Spanish, also if you install the WPML plugin you will get a multilanguage website.
On the other hand, it offers compatibility with many plugins that are very important such as MailChimp, Event Calendar and Event Calendar Pro. It is
also optimized for search engines, so the pages that you index in them will load much faster.
If you were concerned about knowing ratings on this topic, then you don't have to, since its 200,000 satisfied customers claim to be a template of excellence.
#5 Ekko
Another of the perfect multipurpose template models for any type of company, which wishes to transmit an image of modernity and style to its clients, managing to demonstrate a good impression to all its potential clients.
This turns out to be ideal for small business startups and social businesses.
It has a solid selection of yutilie iopcio0nes, diposne of more than 50b demos, which cover a wide range of businesses for your company.
Each of these can be easily imported with just one click.
It should be noted that it has more than 25 templates, which will allow you to design internal pages, which will considerably reduce the construction time of your website.
Like many of the models mentioned above, this one includes the popular WPBakery Page Builder page generator for free, since with this you can quickly and easily create your pages through a graphical interface or drag blocks.
It also has more than 250 blocks and about 40 design elements, in addition to having the Revolution Slider plugion.
Undoubtedly a great solution to create and maintain impressive sliding image viewers with amazing animation effects that will make your website look professional.
Using the advanced options panel that this has, you will have complete control over the entire visual aspect of your web page.
In addition to being able to control any section of this topic without having to write special codes in HTML.
The best thing about this template is that it has a 100% responsive design, allowing your users to enter from any smart device.
As for the details of SEO, the code with which it is structured has the best features to optimize loading time.
On the other hand, it offers 100% integration with the free WooCommerce extension, this will allow you to integrate a complete online store to your website, from which you will be able to sell any type of product that your company sells.
On the other hand, through its modern and advanced portfolios, you will have at your disposal a completely professional platform from which you can show your work.
It has around 12 portfolio styles, 9 project detail styles, plus a virtual drag-and-drop builder. You can use his elegant blog to show the news and news.
If you want to acquire the subjects from 2 to 5 go directly to https://themeforest.net/
Conclusion
 there are a hundred thousand if not millions of WordPress themes online. since you are starting with your small business is imperative to choose the right theme. but you have to keep in mind that you also have to think about growth and adaptability this is why I recommend Divi.